Detail-Oriented Legal Counsel
Focused On You.
Serving Florida with Pride
Real Estate Attorneys in Miami, Florida
Real estate transactions can be incredibly complex—don't face yours alone. From drafting leases to standing by your side at the closing table, our attorneys are prepared to be your trusted advocates from start to finish. In addition, we provide guidance to clients navigating condominium law, homeowners association regulations, business law matters, and estate planning issues. Schedule a free initial consultation with us today to start seeking solutions. We serve those in Miami, Ft. Lauderdale, Miami Beach, Hollywood, and Miramar, Florida.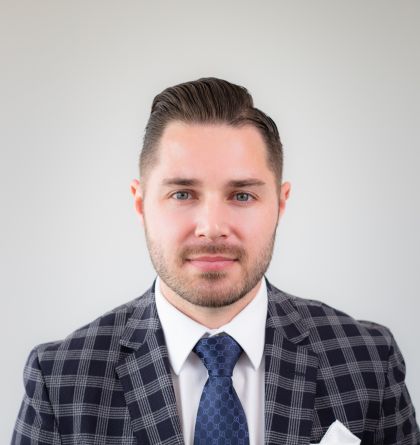 David L. Paul
Founding Partner
Throughout his life, David assisted with several residential development projects in Buffalo, New York. This experience introduced him to the world of real estate law and drove him to open a firm to assist clients with the real estate closing process. Additionally, David has extensive experience drafting corporate bylaws, operating agreements, and a variety of other documents on behalf of companies in Miami and beyond. Put your future—or your business's future—in the hands of a smart advocate. Reach out to Attorney David Paul today.
MORE ABOUT DAVID
Alejandro I. Velez
Of-Counsel
Alejandro was raised in a business-oriented family, which gave him the opportunity to discover his passion for law at an early age. During his time in law school, Alejandro became well-versed in a range of legal topics, including real estate law, business structuring, and tax controversies. Whether you're buying a home or navigating a business transaction, turn to an exceptional attorney and licensed real estate broker—turn to Alejandro. His mission is to enhance the lives of his clients through professionalism, strict management of ethics, and honorability. If you're located in Miami, Ft. Lauderdale, Miami Beach, Hollywood, or Miramar, schedule a free initial consultation with Attorney Velez today.
MORE ABOUT ALEJANDRO
Sylvana Rosende
Of Counsel
Sylvana Rosende is of counsel for DLP Law. Sylvana focuses her practice on probate, estate planning, and guardianship law. Sylvana has experience representing beneficiaries, professional and corporate fiduciaries (administrators, executors, trustees, and guardians) in contested trust, estate, and guardianship litigation. Sylvana has also handled various real estate matters relating to probate.
MORE ABOUT SYLVANA
Why Should You Move to Florida?
You Won't Have to Pay State Income Tax
Florida is one of the few states nationwide that does not charge its residents state income tax. This means that your income will go further, giving you the opportunity to enjoy more of the exceptional attractions, restaurants, and outdoor activities that make our state a top vacation destination.
You'll Live Amongst Visually Stunning Scenery
From beautiful beaches to bustling cities, Florida offers its residents breathtaking scenery set against endless blue waters. You won't be short of Vitamin D when you live in a state where the sun shines nearly every day of the year. So, pack your swimsuit and leave that winter coat behind.
There's an Abundance of Affordable Property
From single-family homes to high-rise condominiums, there's plenty of options available to suit every buyer's specific needs. In addition, sales and property taxes are low, increasing the affordability of moving to Florida. Reach out to our team today to start the process of joining us in the Sunshine State.
Dedicated Advocacy Through Every Step of Your Real Estate Transaction
Buying or selling a home can be exciting. Unfortunately, the legalities of the process can take away from the joy of starting this new chapter in your life. At DLP Law, PLLC, our team of attorneys is here to take some of the weight off your shoulders so you can focus on the future.
Real estate transactions can involve piles of paperwork, complex contracts, intense negotiations, and unforeseen obstacles. It is essential that you put a skilled legal team in your corner to ensure your best interests are protected, your voice is heard, and your goals are met as you work toward closing a deal. If you're a first-time homebuyer, a business looking for commercial real estate, or an individual hoping to sell your property, talk to us today.
We're focused on you from start to finish. Tell us your goals, your concerns, and your vision for the future. If you have questions or concerns along the way, don't hesitate to reach out. We'll be here to seek answers, provide reassurance, or simply offer a listening ear. Let's get your property sold, find your dream house, or close on the perfect commercial space.
In addition to our real estate services, we represent clients in issues of business law and estate planning. Schedule a free initial consultation with our firm, DLP Law, PLLC, in Miami today to get started. Our attorneys proudly assist individuals and businesses in the surrounding areas of Florida, including Ft. Lauderdale, Miami Beach, Hollywood, and Miramar.